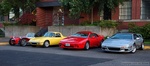 If you own or enjoy Lotuses and happen to live in Oregon or Southern Washington, what are you waiting for? Join Now!
For $25 per year you can join Club Lotus Northwest. Club benefits include invites to regular meetings, access to driving events, and invites to social events.  While participating, you'll be surrounded by other people who enjoy Lotus cars.
Activities
Two times a year we offer trackdays at PIR for driving enthusiasts and people who want to learn more about handling their automobile at high speed. Throughout the year, we are involved in special events like the Historic races at PIR, movie nights, summer barbeques, kart racing, driving tours and other activities for socializing with club members.
Meetings
We encourage you to participate in our bi-monthly meetings. The format is fun and informational. The meetings also give members the chance to voice ideas about the club or upcoming events. Come to a meeting and see what the club is about! Meetings are held the 1st and 3rd Tuesday of the month at the MacTarnahan's Tap Room, 2730 NW 31st Ave, Portland OR.
Discounts
With club membership, comes benefits.  Discounts can be had at club events and some local retailers.  Some current discounts include the following:
Mailing List
Looking for a donut for your Elan?  Want a wet weather tire suggestion for your Exige?  Looking to take your Esprit out for a drive and want some company?  Club members can sign up for our mail list. It's a quick and easy way to reach out to the local Lotus community.
Club Lotus Northwest (CLNW) is for every Lotus enthusiasts. Lotus ownership is not required, only a love for the Lotus marque.  A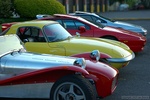 membership in CLNW is "the perfect excuse" to support this web site and really enjoy the special breed of car created by Lotus.
You are encouraged to join the CLNW by printing the Membership Application and forwarding the completed form and dues.  Or even better, join us at one of our meetings.
Join today! Annual CLNW dues are $20 US$ with a $5 initiation fee.
Send Dues and this application to:
Club Lotus NW
P.O. Box 2190
Beaverton, OR 97075-1354